My wedding speech
I recently did a standup-of-sorts masked as a groom's speech. Sharing my script to help grooms make their Netflix special.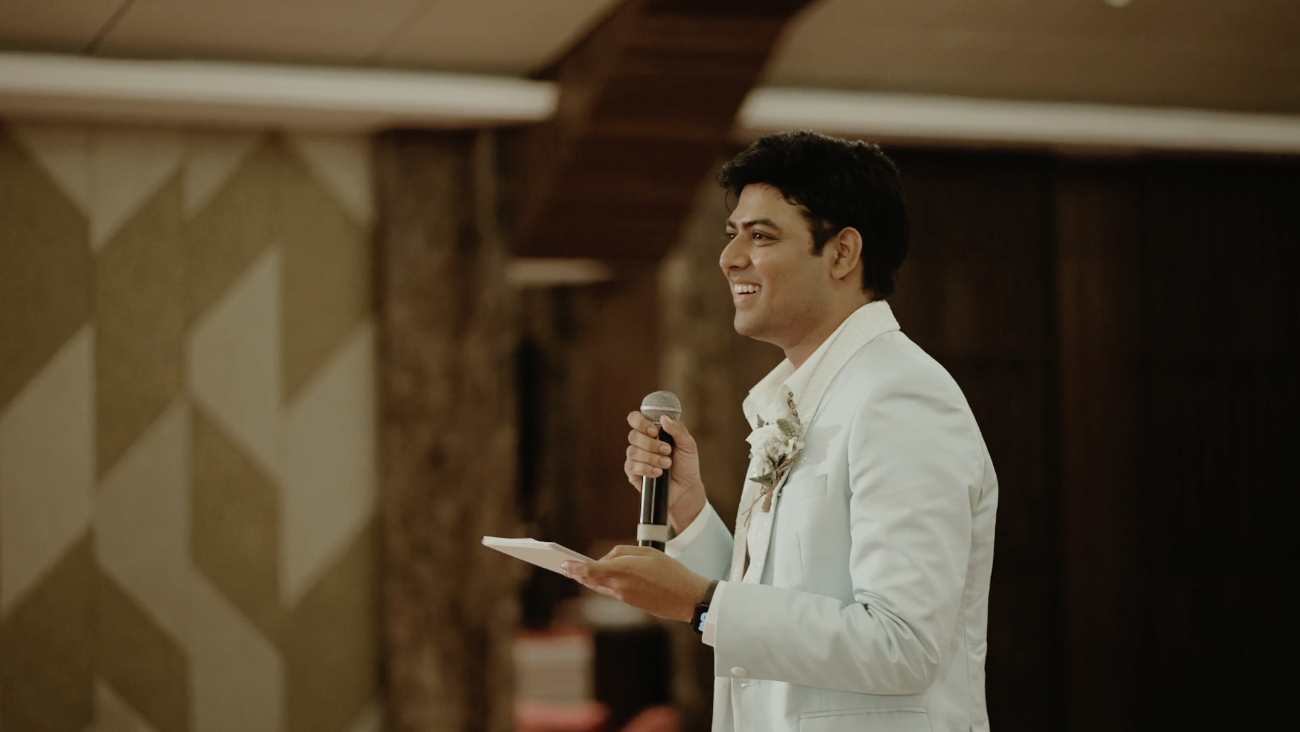 Full script
Thank you so much for being here guys.
Let me introduce you guys to my best men- Sachin and Kittu.
For those of you that are wondering why there are two best men, it's perfectly simple. I wanted to appoint a best man for the occasion, but sadly couldn't find one, so I got two barely competent ones instead.
We were partying at Kittu's.
Every one was drunk and grooving to music. Kittu was missing for a few hours. We found him drunk and still washing utensils in the kitchen.
Kittu and Sofu have been married for 2 years now, Sofu and Trisha come from Kurukshetra and are close friends. Kittu and Sofu met, dated and married because I asked Trisha to introduce them. Little did they know It was my way of beta-testing Kurukshetra people for marriages.
Kittu has been bearing me for 11 years now. That is 11 years of beers. Walks. Parties. He is the person I can order around, the person I can rely on and the person I tell everything. From the most important problems in life to inconsequential runnings of day-to-day life. All moments of my life - good, bad, ugly. Either he is in them, or he has heard about them 10 times and will continue to do so.
Coming to Sachin. My brother from another mother.
There really wasn't a choice being Sachin's friend. He was very committed. He is a Kannadiga and even learnt Telugu for me. To test his passion, I taught him 'fuck off' in Telugu and told him that it meant 'good morning'. Little did I know that he would become my roommate and greets me good morning every day. 
Real story- There was a valedictory function happening in college. Sachin was very drunk. He took hold of the mike and cried for 3 hours that he missed spending time with a person. You would think that the person he was crying for was his girl friend or ex girl friend. But that person was me. And it was my valedictory party that he ruined.
Sachin, to me, has been like Chandler to Joey. He is the one who put cash in my pocket. He made sure not having money not stop me from experiencing life. He made sure I had enough money in the bank so that I can quit my Goldman job and start my startup journey.
He always wonders how I take huge crazy risks. Every time I take a leap, I know he will catch me if I topple badly. He is my first co-founder. My first roommate. My first go-to to share everything that I dream big with. and safety net.
Let me give you an example of how much the best men helped me plan the event. Trisha and I needed photo stills of the bride and groom with each other's friends. Trisha's bridesmaids sent her 100 images, reels and pins within 2 hours. Within the same time, Kittu sent one Insta reel about a wedding prank. Sachin took me out for chai.
Needless to say, I am still waiting for those suggestions.
Sachin and Kittu, thank you both for dressing up and looking kickass today. I was almost worried you guys would appear shirtless and in shorts. Honestly though, I can't even imagine how my life would have turned out without you guys to rely on.
You guys are the best, and I love you both. I couldn't ask for better best men to be on my side.
Coming to Deepti-
I was going to make Deepti the best man for couple reasons.
Who better to manage an anxious and uptight me on the wedding day. She had 5 years of such experience with me as co-founder. Two, her obsession with the word best. She changed her contact on my phone literally to bestest cofounder ever.
But the terminology 'best man' for a woman sounded wrong.
Deepti is one of my closest friends. Our friendship has been a good surprise that life threw at me, and it transcends protocol and tradition. She has been performing best man duties for 4 years now. Making sure I shed my ridiculous bachelor habits. Making sure I become financially aware and secure. Holding the fort at work so I can spend time and mental bandwidth planning this event.
She is the best portion of the best man. And I can't wait to spill a few secrets as a best man at her wedding.
Coming to my close friends-
Generally, friends complain that the guy in the relationship stops hanging out and doesn't respond to friends' calls. In our group, it's reverse. All my single friends behave as if they are in a relationship. Always busy. The married ones are constantly making calls and plans. To get a relief from the married life. 
Do you know where we went for my friend Saiteja's bachelors? You would think of strip clubs in Thailand. Nope. Buddhist monastery in Dharamshala. He wanted to spend his bachelors trekking mountains. In winter. We went there with 100% confidence. 0% preparation. Forget toothpaste. We didn't have proper clothes to stay in a place like that. To create a bonfire, Shiva literally handed me two stones. Once we came down from that mountain, I knew I wanted to
get married

settle down and

Get the fuck away from these guys 
Jokes apart, you guys have been kick-ass friends. You get my first calls if I am feeling low, and you manage to listen to my rants and bring my spirits up. You guys know when to listen to me. When to guide me. When to throw sense into me. Couldn't ask for a better band/tribe.
Let me share a few stories I shared with the bridesmaids-
I was partying in Hyderabad in a pub. I see a woman completely drunk, almost throwing up, making weird dance moves. It was Ishika, maid of honor today and Nora fatehi of Hyderabad that day. The only reason she was not doing Nagin dance on the floor was that she was held up by a guy she used to date back then. Cut to today - she married that guy and they had a wonderful baby just a few months ago.
Let me tell you about Sofu. To be fair, Sofu is one of the most transparent people I have seen. She will call you on a Sunday. And tell you that you were her last option to call today. No one else picked up the call.
They say you are the sum of your 5 closest friends. There are few friends who share Trisha's peculiar characteristics - love for skincare, fashion and food. Those five friends are Swati Swati Swati Swati Swati.
Actually, I forgot two others. Trisha gets her bad Hindi puns from Himanshu, and she is learning sarcasm from Sakshi. She also gets her focus on mental health, handling tough times like a queen and punching above weight from them.
All being said, you can trust Trisha's bridesmaids with any secret and know in your hearts they will never give away the secret - however, they will exchange it for another.
The bridesmaids, especially Bebo, have been very diligent for the past few weeks. Should NASA ever need organizers for another lunar landing, they needn't go any further than right here. These bridesmaids can organize and execute anything.
As long as a man is going down in it.
Honestly though Trisha's bridesmaids - You look absolutely beautiful. You all have been wonderful and super helpful with the whole event planning. Thank you so much for getting my woman here today without her losing her shit on me.
I'd like to thank my mom and dad for raising me.
But importantly for putting up with me. For guiding me in the right direction. Even though it required spanking me a few times. Belting me a few times. Throwing me out of the house a few times. Little did I know that they were training me to live with Trisha.
My parents wanted an ideal daughter-in-law. They got Trisha, who hits the trifecta. Sleeps for 12 hours. Doesn't know how to cook. Better drinker than me. Glad I made them proud.
Anil and my sister, Susmitha, got married recently. Almost in a rush. She wanted to rank better than me, at least this one time.
One of my first observations about Anil was how trim he looked. This is due to the 50 push-ups he does each day. None of them intentional - he just falls down a lot clicking pictures of my sister.
My sister complained during her wedding that my mom was crying non-stop. Especially when she was leaving for Anil's home. She didn't get that they were happy tears and the happiness was too much to be packed inside.
Honestly, though I am very proud of my family. Two weddings in a year is no joke. They have executed a 2000 guests wedding completely on their own shoulders. I love how well Anil mingled into our family and how much Trisha and Booshi get along.
And I really couldn't ask for a better woman to join our family. I could. But If I did, Trisha would kill me.
I appreciate my in-laws, Neelam aunty and Karan, for accepting me into the family and giving me new audience to make a fool of myself. My family is in need of a much-needed break.
I am especially grateful to Neelam, my mother-in-law, for bringing up Trisha so well that she has become the lady you see before you today.
I can't emphasize enough how wonderfully supportive she has been from the moment I first met her. She has always made me feel like I'm part of the family. Even before I asked Trisha for her hand. I love you guys and can't wait to be part of the Dhamija clan.
I want to now introduce the star of the show.
I am actually at a loss of words but I will give it a shot. Beautiful. Stunning. Luscious lips. Radiant eye lashes. Youthful looking skin. Sparkling eyes…. Okay that is enough about me…
Trisha and I met 7 years ago as colleagues and we have been dating for 6 years. So why has it taken us so long to get married? Well, it is all about maturity. I am like fine wine. Started out as grapes. Then Trisha stomped on me. Then kept me in the dark until I matured into something she'd like to marry. It is my eternal good fortune that Trisha's taste in wine is cheap, unrefined and immature.
The last few months have brought Trisha and me closer while we prepared for this wedding. To make the event happen, Trisha worked out a budget — She cut down on eating. I cut down on the amount of books I buy.
It's fair to say, Without Trisha's organisation, drive and borderline military-style planning, this event would have been left to me. And you really do not want to see that. It would be like the Hangover movie without a budget and we would very much be stranded on this lawn without music, food or place to stay.
After all my shortcomings, One thing is for certain, Trisha will never leave me. I mean, she has spent the last seven years training me, so why waste it?
As this is not a traditional groom's speech I am going to reserve more comments until the wedding tomorrow. There is just too much risk riding on what I say now.
Before I end, I want to say a few words on behalf of both Trisha and me.
Some people judge their success on how much money they have in the bank and others on how they look in the mirror or how much famous they are. For Trisha and me, it would have to be by looking at the friends and family that surround us now. If you are here with us today, it's because you are important to us. When I look around the room I'm in total awe of how lucky and successful Trisha and I really are.
With that, join me in raising a toast for my beautiful would-be wife. I can't wait to marry you. If it wasn't for you, I would have gone through my life thinking  I had no faults at all.
---
If you'd like to watch the full show instead of reading, here you go:
---
Online content (video and written) helped a lot when I created this script. So to pay it forward, here are the portions that didn't make the cut. In case it helps you (also congrats :))
Intro
I'm not really one for public speeches. I am going to stutter and stumble a lot through this one. But I decided it is my time to say few words before I spend next 40 years listening. 
I really really really appreciate the effort coming here. I love you all and I really hope you'll feel the same after you hear my speech.
Best men
Sympathetic, helpful, understanding. All the adjectives I would never use to describe either of them.
Kittu
Kittu is the kind of person who gets along with everyone. A friend you can always have a good time with. As long as he's in control of music. Picks the type of beer we are drinking. The people we are with. The place we are going. And what we are going to do when we get there. 
When Kittu and Sofu were dating, they used to lock themselves in room for 2 hours. People used to think they are having sex but I know the real truth. Kittu would be deep cleaning the entire room like urban clap bhaiya for 1.50 minutes followed by 10 mins of whatever with the little stamina he has left.
Sachin
We have been friends and brothers for 12 years. He knows almost all of my secrets in and out. Now you know the real reason why he is the best man today.
Sachin to me has been like chandler to joey. Every time I was broke in my college times, he was there for me like chandler was there for joey. I only wish chandler paid for joey's wedding in friends. So I know where to send today's bill to.
To the single women here today. Sachin is single. He was in and out of dating different woman and broke up 3 times in last couple years. He always blames the women when the breakups happen. But Sachin I think it's time to realise the problem probably is not in the woman. They are the one who is doing beta testing and you are clearly being sent back for bug fixing.
Not many people can boast of a best friend who's kind, honourable, ambitious, charismatic, generous, reliable, trustworthy, funny, supportive, wise and - yes - handsome, too. But Sachin can.
Deepti
There is also a missing/special toast today from Deepti, the woman I can spend hours with and Trisha wouldn't kick me in the ass for it. 
I asked Deepti to give the best women's speech today. I thought she'd be worried and sleepless given that she is an introvert like me. But she has been sleeping like a baby. Waking up every two hours and crying over and over. Now you know what it took for her to give that speech.
For the folks who doesn't know, Deepti is my cofounder and I have known her for 5 years now. If Deepti was as talkative as my other friends and she spent more time with Trisha telling her about my work life and habits, I am sure Trisha would want few more months to decide when and if to get married. 
My friends
It was through a mutual love of cheap beer and whisky that we all became friends. We've always considered ourselves fortunate to have studies in IITB, a college which has more bars per square meter than anywhere else in Mumbai. But I can tell you that we haven't been in all of them. The problem, though, is that we can never remember which ones we have been in.
As far as our friendship goes, there's nothing I wouldn't do for these guys and there's nothing they wouldn't do for me. And that's the way it goes – doing nothing.
Bridesmaids
The bridesmaids have been very diligent for the past few weeks. For each todo on my list for this event, I used to get 1 message from Trisha and a follow up from every bridesmaid asking me if I did it. I just have immense respect for the men they are married to. You guys are carrying the weight of the world on your shoulders. 
Trisha has always complained that I proposed to her a year late. Today I am going to tell her why. It is because of the warning signs her friends gave me. Let me share few examples.
Goyal
Recently I am staying with goyal and I have been going on few car drives with him. When anyone in south india is driving and gets into an accident, they first analyse what mistake happened and what we wrong. Goyal is like the typical north Indian who will give gaali, probably slap the other person and then later think whose mistake it was.
I have been living with Goyal, Trisha's friend for few months before the event. It's a sweet gesture when I didn't have a place to stay in Bangalore. Now I realise that it is a tactic by the bridesmaids to keep an eye on me during the wedding chores. 
Sister
Many of you have taken an arduous journey to be here today with the Gunti family. Few of you flown from various countries and took sleepless jet lagged flights. My brother-in-law Anil has had an especially difficult trip here. He had to share the car ride from Hyderabad with my sister. 
I wanted to give my sister some advice on her wedding day, so I asked my parents if they had any pearls of wisdom to pass on. My mom said a happy marriage is all about communication, communication, communication, and without that you've got nothing. Very true, I thought. Then I asked if she can get dad. "No chance, he switches his phone off when he's down the bar".
Brother in law
I'd like to thank Karan for his kindness over the last few years and for keeping a relatively straight face when he heard I had proposed to his sister. I've always chosen to assume those were tears of joy, Karan.
I would like to assure you both that in marrying me Trisha will not have to compromise on her ambitions or her career. I strongly believe that women should have genuine equality these days. It's only fair. In fact, I said that to Trisha yesterday morning … as she was folding my clothes.
Trisha
There is another reason why we are getting married. I wanted a ring. I have been ringless and without this event, it didn't look like I was ever getting one. Trisha was just happy staring at her ring.
We both have a very healthy relationship that helped tremendously. Everything's done on a fifty-fifty basis - she told me what to do … and I did it.
Trisha is a magician in Kitchen. You say kitchen and she disappears. 
I was researching why do women wear whites in the the wedding. I read two popular conclusions. One was that it is to represent bridal innocence and purity. But the most popular one was that brides wear white because they are happy. And now we know why men wear grey and black.
I can't wait to get married tomorrow and perhaps share a few more words about my beautiful would-be wife once she cross the point of no return.
End
Lastly, the whole clan has pitched in to make today and tomorrow happen. Bridesmaids. grooms men. friends. family. Everyone eagerly came forward and took care of different pieces of this event. I sincerely thank you friends for helping me fund this. I don't think I can ever repay you! literally.
---