6/10 products we launched on Product Hunt hit Top 5
A bit of context first. We launched 10 products on Product Hunt in the last 3 years. Each product made it to the top 10. 6 of them reached the top 5.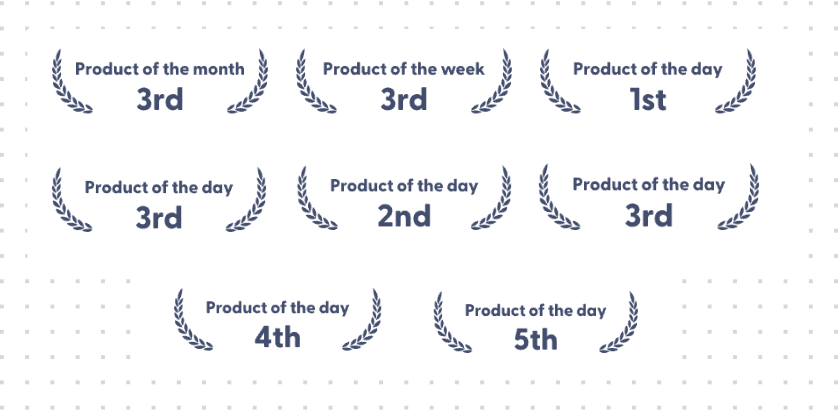 A quick summary of my learnings from the launches:
Only some startups are good Product Hunt ideas.
The Product Hunt community mainly has product people (PMs, Founders, Techies, and Designers). Projects that hit best with this audience perform well on launch day. A good Product Hunt launch project and your core product can be different.
Landing page is critical.
Product Hunt audiences check many products at once. They don't explore the website to decide if it is upvote-worthy. All we get is one landing page to communicate and engage.
Interactive UX helps.
Interactive demos that need low buy-in from the user and invite them to engage worked well for us. More time spent on the page → higher chance to create a wow factor → more upvotes.
Have a clear goal.
It will decide most of your launch day variables. If you want paid users, having a life-time-deal helps. Weekdays are your best bet to launch if you wish to have more footfalls. Weekends are a good bet if you don't want to compete with other startup launches. We optimize for SEO, so we aim to get into the Top 5 newsletter.
9/10 of our launches have been on Friday.
Wednesday and Thursday are the most competitive. So startups usually launch their core offerings on these days. Few of these startups plan their launches for weeks or months in advance. Our launches are not core offerings. Sticking to Friday worked well for us.
We launch at 12 AM Pacific time.
That is the time PH "day" starts. We aim to stay in the top 5 by the time the US wakes up and adds their products. Whatever our rank has been at that point, we will likely dip 1-2 positions by the day's end.
Initial seed likes help.
We don't seed likes much. Product Hunt algorithms are decent at picking up fake upvotes. We share the product across social media for 1 hour. Those initial likes help differentiate between products that put little effort. Post that, it is what the community decides.
We hunt our products.
We only used a Hunter for 1/10 launches. We haven't seen much difference in Product Hunt performance based on the hunter.
Engaging the community is good to do.
Engaging the community with comments and reviews helps with the algorithm. But it has low weightage compared to likes. Product Hunt users might check the launch page before upvoting. Good engagement in the comments section does invite more upvotes. 
Luck matters.
As with anything in life, you need a significant amount of luck. If someone comes up with a crowd favourite on the day of your launch, you might be affected. It is hard to control all the variables. It hurt a couple of times when products built in a day or two took over us. It is all part of the game, and Product Hunt is not the end.
Do not pour all mental energy into launching your core product offering on Product Hunt (Do it. But don't put all your hopes on one launch). Some successful startups outside of Product Hunt weren't successful on Product Hunt. Likewise, many successful Product Hunt launches are mere landing pages. 
Have fun
I enjoy PH launches and irrationally refreshing the launch day dashboard :)